09.05. - 31.05.2020 visible through display windows
Alissa Ritter: "Erinnerungsgeflechte", BauSchau Essen, Brigittastraße 9
Teresa Linhard: "Smooth as a creature", BauSchau Düsseldorf, Brehmstraße 41
Öffnungszeiten
visits by appointment
Duration of the exhibition 09.05. – 31.05.2020 through the display windows
Alissa Ritter: "Erinnerungsgeflechte", BauSchau Essen, Brigittastraße 9
Teresa Linhard: "Smooth as a creature", BauSchau Düsseldorf, Brehmstraße 41

Baustelle Schaustelle e.V. is committed to giving artists a space to exhibit their work, even in times of Corona. The large display windows in both spaces, Düsseldorf and Essen, allow us to exhibit "through the display windows" in each city.
After a promising start, Alissa Ritter and Teresa Linhard continue the new format in Essen (Ritter) and Düsseldorf (Linhard).
Artist Talks in Video available on our YouTube channel:
Mai 2020 // Virtuelle Führung / Alissa Ritter: Erinnerungsgeflechte
Mai 2020 // Virtuelle Führung / Teresa Linhard: Flink wie ein Wesen
Alissa Ritter: "Erinnerungsgeflechte"

Erinnerungen werden zu Narrationen. Farben, Gerüche, Bilder und Emotionen lassen eigensinnige Geschichten entstehen, die teilweise aus eigenen Erinnergungsauszügen, teilweise aus Erzählungen anderer gebildet werden. Die erzeugten Bilder werden im Wach- oder Traumzustand immer und immer wieder gesehen, erlebt und verändert.
Raum ist dabei ein wichtiger Faktor. Er kann zum Aktions- oder Handlungsraum werden oder aber selbst zum Handlungsträger.
Was passiert aber, wenn sich Raum nun auf einen kleinen Teil des gewohnten Lebensraumes beschränkt, wenn nicht nur Umraum sondern auch Handlungsfreiraum eingegrenzt werden?
Durch die Folgen der Corona Pandemie erleben aktuell weltweit Menschen Ausgangssperren und Kontaktverbote. Dabei kann das Empfinden dieser Phänomene stark variieren.
Vermeintlicher Stillstand und soziale Isolation verstärken Emotionen wie innere Unruhe, Angst und Einsamkeit, Gefühle, die für einen Großteil der Bevölkerung schwer auszuhalten sind. Gleichzeitig eröffnet die Krise die Möglichkeit der Auseinandersetzung mit ebendiesen Ängsten. Die Reduktion äußerer Reize und sozialer Ereignisse, kehrt den Blick des Individuums nach innen, wo neben existenziellen Fragen, Erinnerungen an Bedeutung gewinnen.
Die Malereien nähern sich dem Thema Raum und dessen Errinerungsgeflechten an. Malerisch werden abstrakt bis figurativ Begegnungsräume und Beziehungsgeflechte erforscht. Die gemalten Akteure sind mal allein im Austausch mit ihrem Umraum und sich selbst, ein anderes Mal eingebunden in einen Austausch mit anderen.
Das Medium der Malerei versucht diese bewussten und unbewussten Erinnerungsauszüge im Bild in Erscheinung treten zu lassen und entschlüsselt dabei Elemente, Ereignisse oder Dinge, die Teil dieses Sichtbarmachens werden können.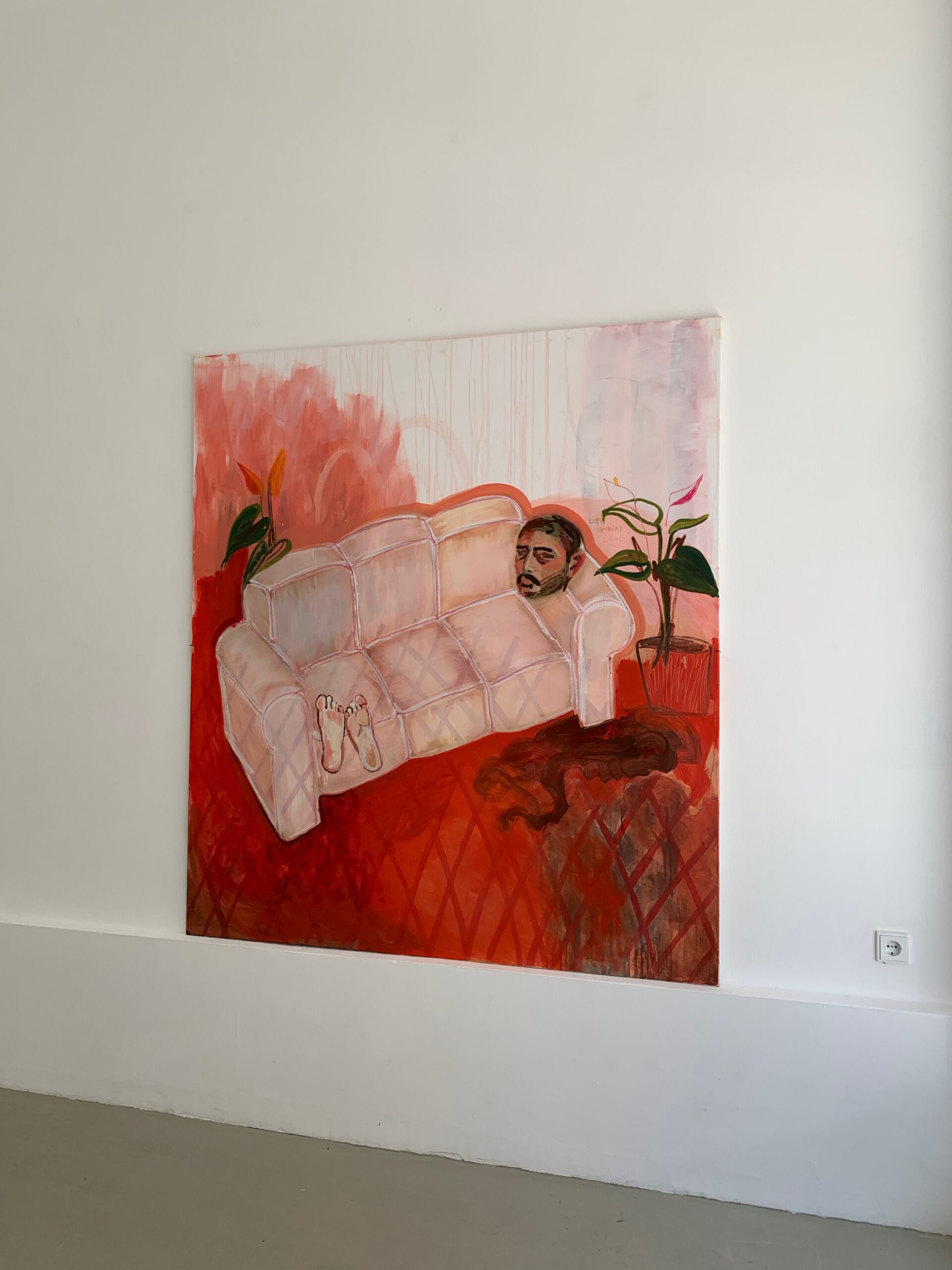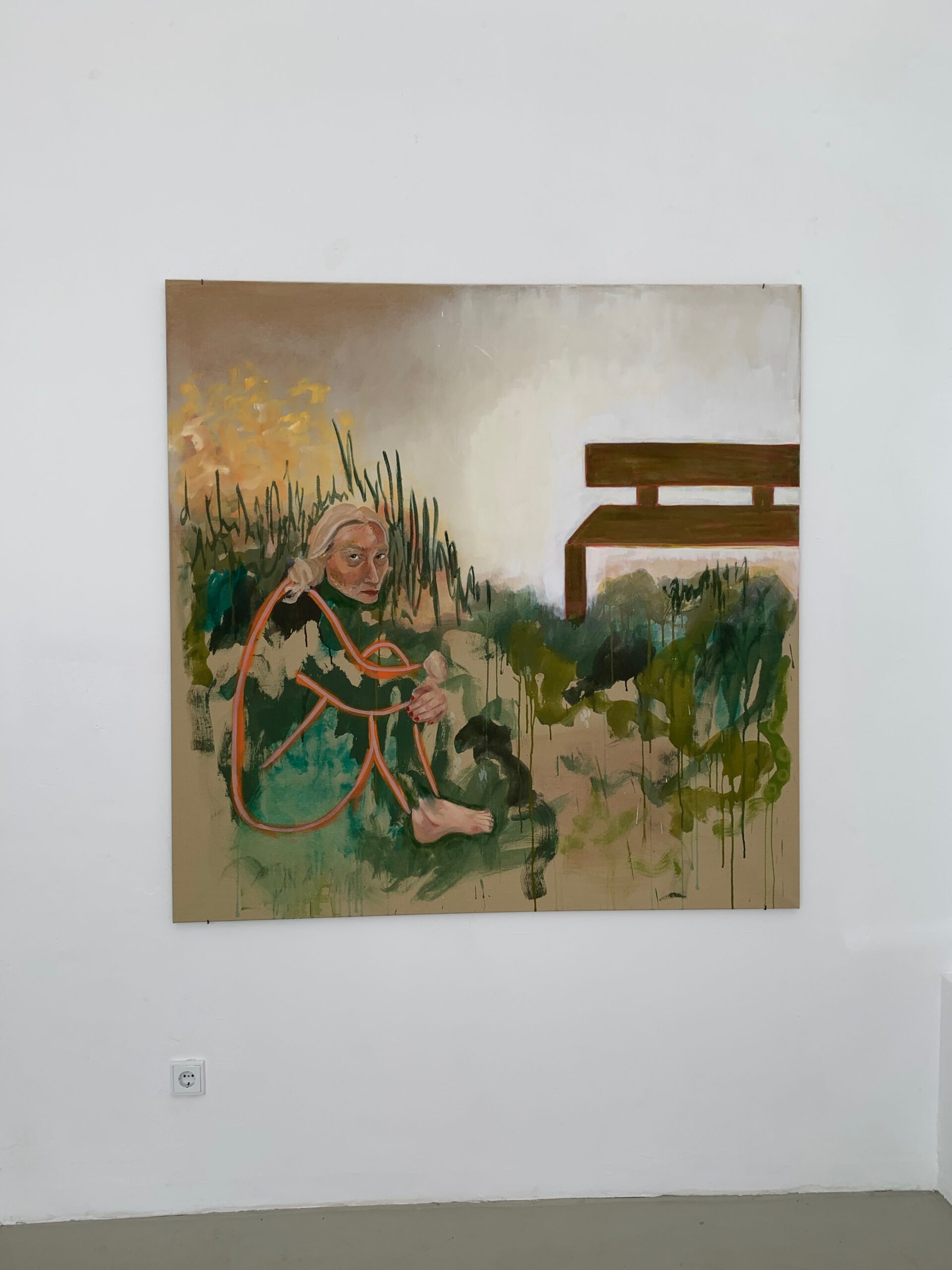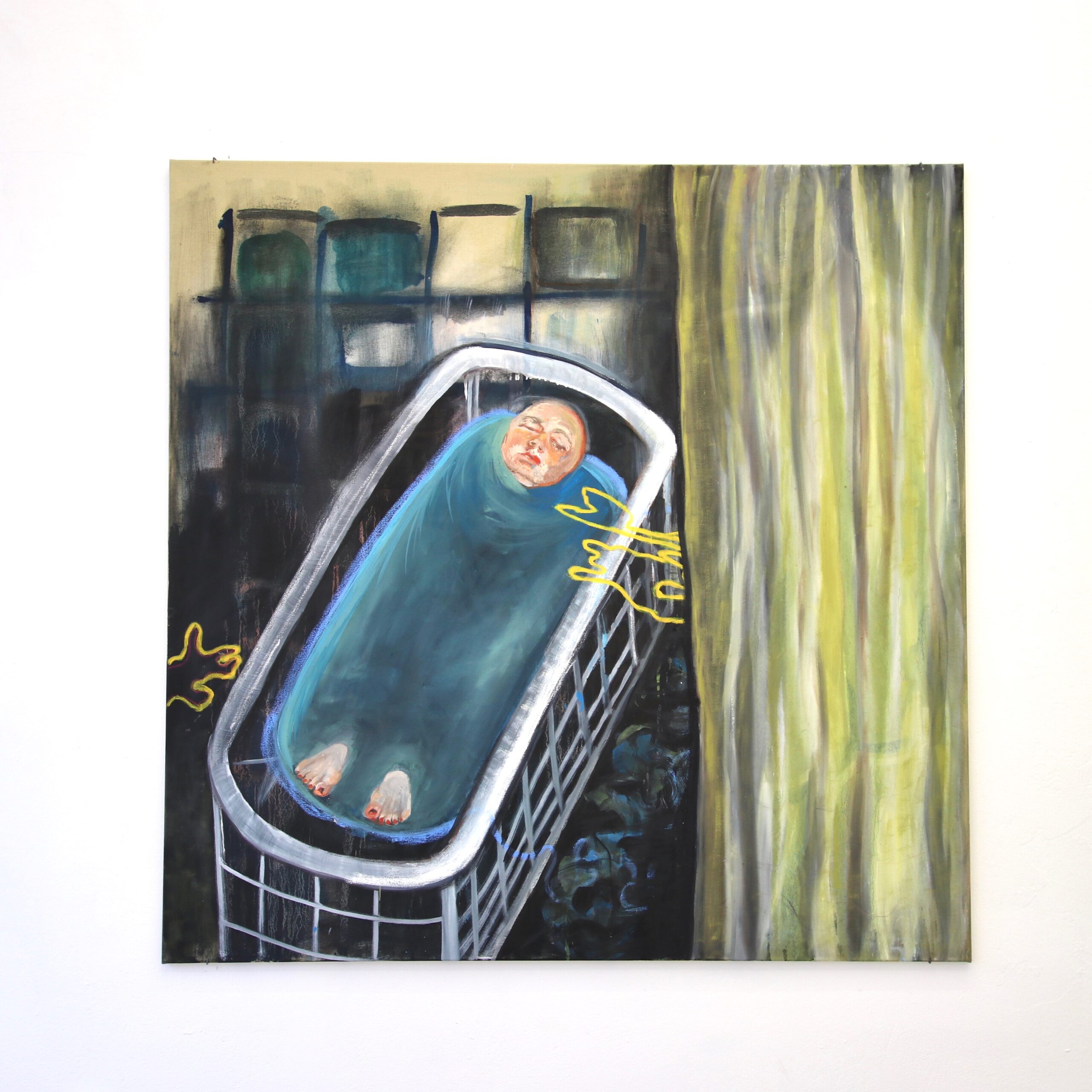 Teresa Linhard: "Smooth as a creature"

The ambiguous is what concerns me. We live in a world strongly influenced by classifications, our Western thinking follows the rationalist understanding of sciences, which breaks down the appearance of the world around us into its individual parts. But at the same time as scientific knowledge is advancing, the desire for a natural originality still exists in our society and we learn through new biological knowledge the power and intelligence of nature. Even in our Western imagination, aspects of nature experiencing have been maintained. In Christian mythology or, for example, in the legends of the Greeks (and Persians), the world is teeming with powerful beings to whom man is at the mercy of. Mixed beings, composed of different animals, have been attributed a special power and strength. Today, these beings usually symbolise the demonic. Is it a symbol of our present time that everything that does not seem clear has an evil effect on us?
The exhibition room is inhabited by strange creatures. Oscillating between mythical creatures and plants, these beings are the expression of a longing for more openness regarding the inexplicability of our world. Shadowy, they show the viewer their loose form in textile, spreading out, hiding, writhing, reluctant to rational categorization.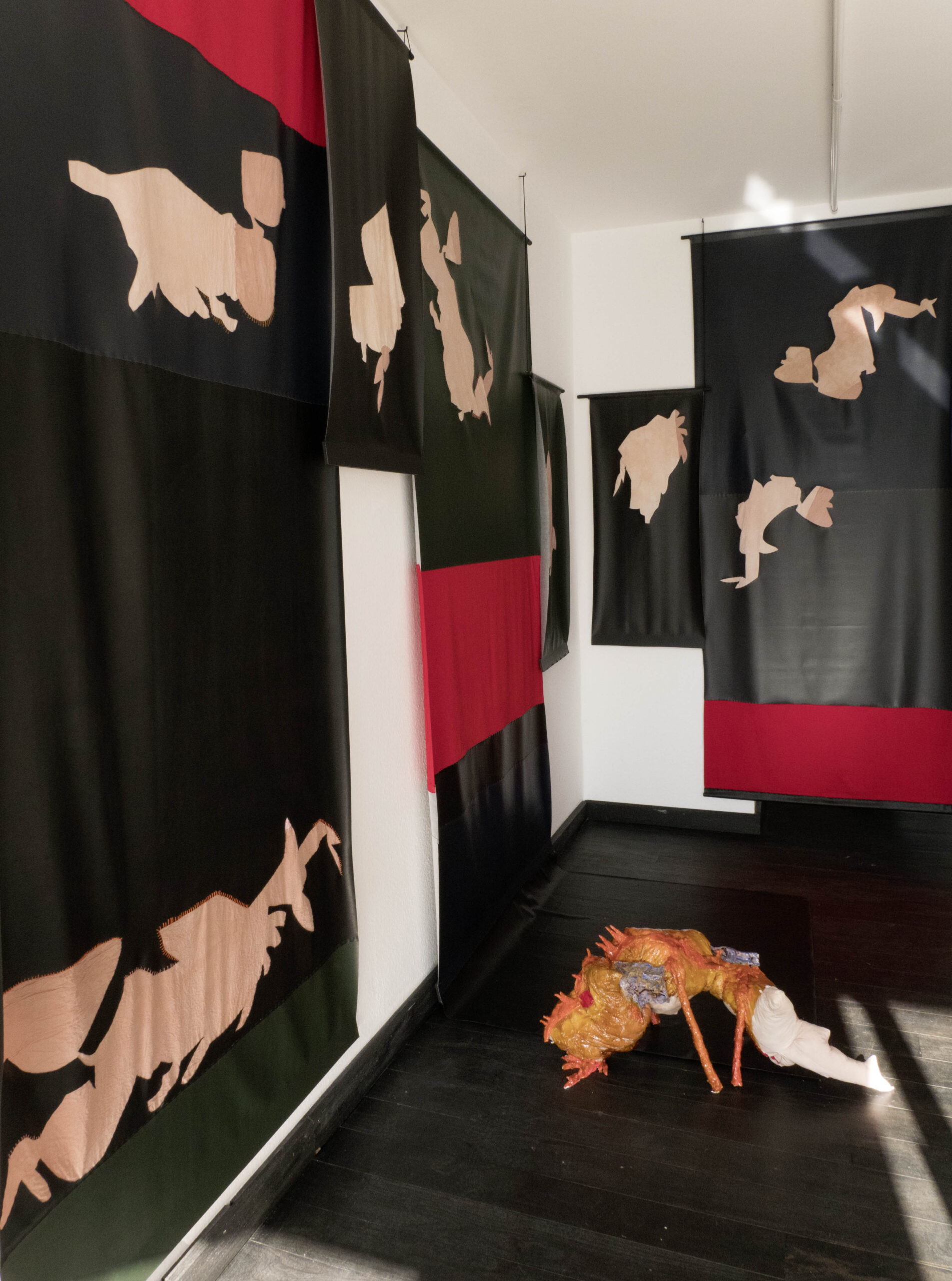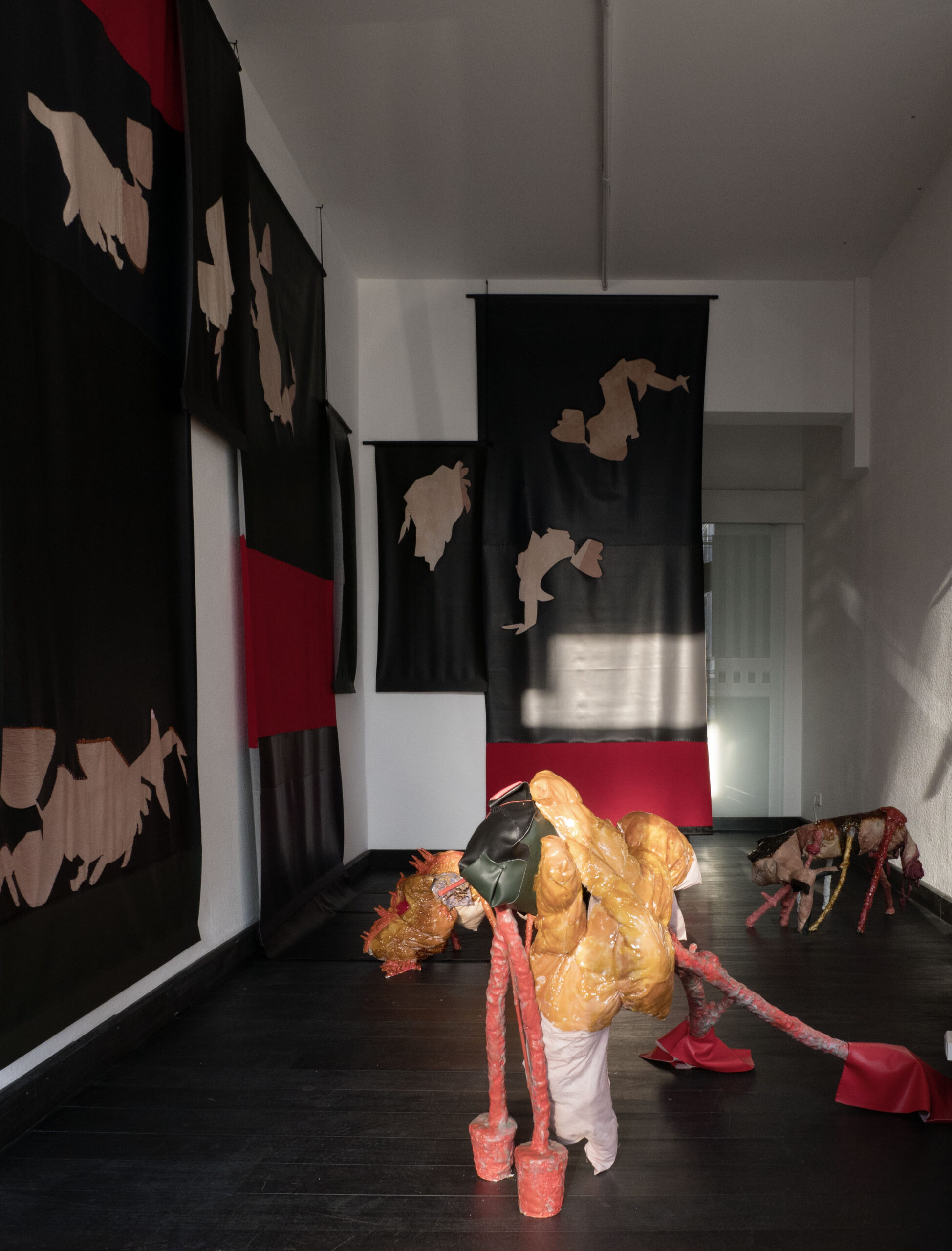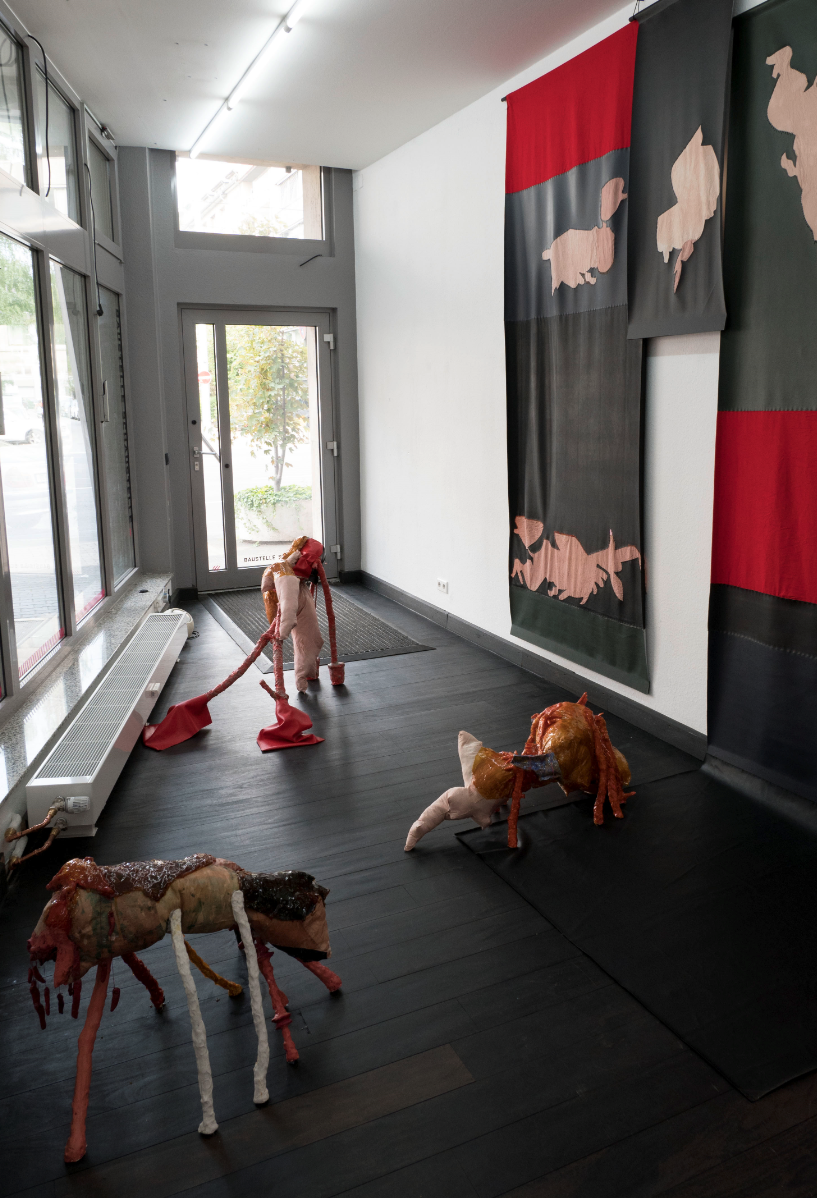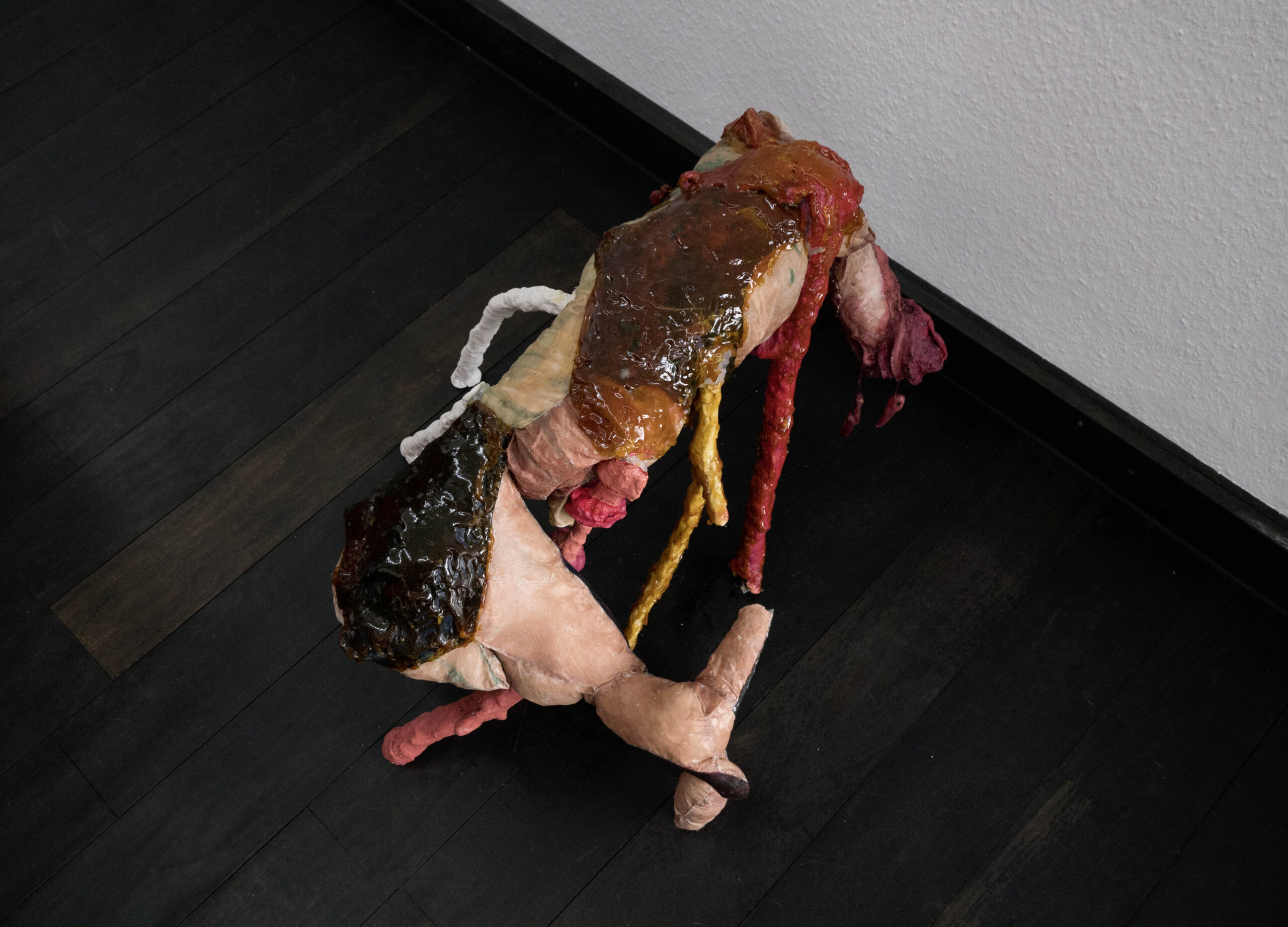 The Exhibition in Düsseldorf is sponsored by